King Tut (Tut)
Sex:

Male

Date of Birth:

August 3rd, 2021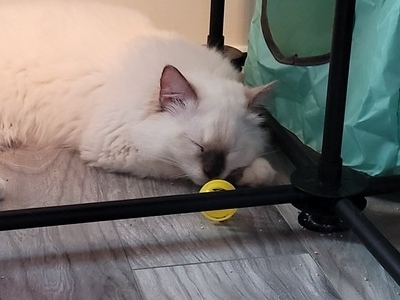 King Tut our future daddy is here! Tut is a Traditional blue point mitted with the most darling grey nose and tipped ears ! He has stunning blue eyes that are icy on the edges and deep sapphire in the center. He's growing to be a big boy with a luxuriously thick and soft coat. He's quite the personality full of curiousity and energy, exploring his kingdom while laying foundation of his BOSS status in our home.
Every day is a moment closer to his first litter! We can't wait to see what gorgeous and loving babies he gives this world !
King Tut Comes to us from R&R Ragdolls His parents are Sealy Booth from MS Ragdolls and fluffandtumble Iris of R&R Ragdolls.