We have currently got homes for all of our new babies ! Stay tuned for future breeding and availability.
New contact Information Jason Johnson 803-998-9595 and Tiffany Leflore 803-998-9849.
Be blessed and we look forward to helping you find your new family member in the future !
LITTER OF October 2022 - KING TUT & FELICITY looking for homes for 2 kittens !
We currenbtly have one chocolate point male and one solid blue mink available for addoption both of these boys are amazing ! they have been socialized daily with classical music, car rides , exsposure to dogs and learning to live a fantastic kitten life !
various stimuli to make them the best companion aniamal ever ! We at Tigger tot cattery believe that the early intregration and exsposure to dogs, cats and children help our kittens have a great bond with their owners ! We are commited to giving our babies the best life possible ! starting from birth any beyond !
Current
King Tut (Tut) - has been bred to - Thailah
Dam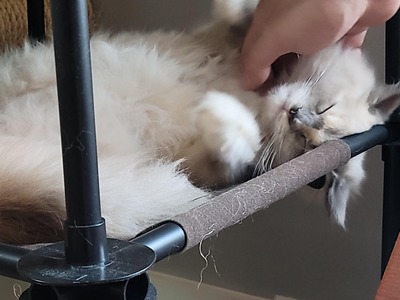 View Profile
Past
King Tut and Felicity First Litter
Date of Birth: October 31st, 2022
Intoducing King Tut as a Traditional Chocolate Male and Felicity as a solid Blue Mink Both Dna tested and clear of any genetic defects. This will be a beautiful litter of kittens with great Ragdoll temperments that any ragdoll lover would welcome into their home ! we are so excited to anounce this long awaited litter of kittens !