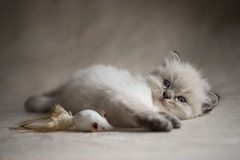 Cost of Tigger Tot Cattery Kittens
A frequent question we are asked is : How much are your kittens ? what I can say about this are there are various determining factors that go into our pricing of kittens including but not limmited to , vet visits , feeding a quality diet at all times , litter, immunizations, deworming, flea medication, wellness checks, stud and queen care, c- sections, pet insurance ect.
Breeding is very exspensive ! and does not earn a penny ! If you would like a breakdown of our cost to raise one kitten please let us know as we have copies for all our customers as to why this breed is so pricey !
We are not in the buisnesss to make money off the sales of kittens ! our sould responsibility and desire is to maintain and promote the ragdoll kitten breed at all times !
our kittens start at 1500.00 for a kitten that is a comanion animal and is not going to be showing , our mink kittens start at 2000.00 and go up depending on show quality ect.
At this time tigger tot cattery will entertain adoption of breeding cats to qualified TICA registared catteries due to our commitment to being the best cattery and our dedication to learning and absorbing everything there is to know about breeding kittens and all the DNA , and learning all the details and guidlines before becomming a mentor in such, We are looking at 2023 to start doing this as we need 5 years comfortably to be able to mentor in the best possible way.
We absolutely do not EVER cage our animals like other cattery's. Caging them damages them and makes it so they don't recognize human interaction. We offer a 5 year genetic defect free warranty and offer a 30-day free health insurance that you can either keep or not keep. first and second possibally set of shots and, Included Microchip to be inserted at time of spay . If you are interested in how we differ from ANY other cattery out there, please let me know.
We offer Mink kittens and rare Lilac point kittens that normally, go from $2500-$3000 per kitten, we offer show quality kitttens and non show quality and are TICA approved as a Purebread. You get that paperwork as well, along with a pamphlet of dos and don't with the Ragdoll breed. We are in this for the long haul and will always be here if you have questions or need help. We require a $300 deposit and can take that by check or money order Please let me know if you have any questions.